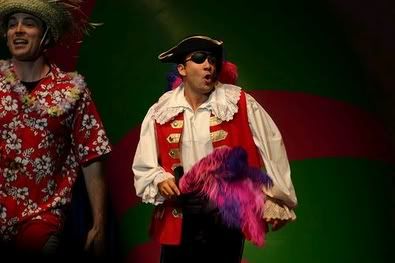 Are you ready -- to Wiggle?
Another 12 hour day. I'm so tired I can't see straight so if you want the drug war news tonight go on over and see Pete at
Drug WarRant
for all the news fit to peruse. Me, I have poor Greg Wiggles on my mind tonight. He suffered a double hernia while on tour in the US and is recuperating at home in Australia.
Acoustic Dad has the details
.
I'm a big fan of
the Wiggles
. I just discovered them a couple of years ago and while I often forget their names -- you tend to them to think of them as colors -- I know the words to most of their songs. They have a brilliant kids show on the Disney station and they're
great musical perfomers
. It's kind of like watching a mini off Broadway show. They're wholesome; one has no qualms about allowing a two year old to watch them, but they're also really hip. Very retro 60s. I have a huge crush on
Captain Feathersword
myself. He's really cute and he's a good pirate with a really cool pirate ship.
Their routines are really athletic
. If you watch the show, you'll understand why Greg suffered the injury. And if you think it looks easy, get up and try to mimic the moves when they do a music skit and then imagine trying to keep up that pace for an hour. They should tap into the adult fitness market and do an exercise video.