Sunny Sunday afternoon
It turned out to be unexpectedly pleasant so I spent a couple of hours raking leaves in the front yard. They're a lot worse than they look. I managed to make a new pile for the bonfire and raked up a bunch more piles around the yard but I didn't burn anything today. I figure once those are done I'll be about a third of the way through - the front yard that is. The side yards and the back are smaller but the leaves are worse. I really won't be done until spring. The good news is, as you can see, the trees are mostly bare now so I won't have to do it twice.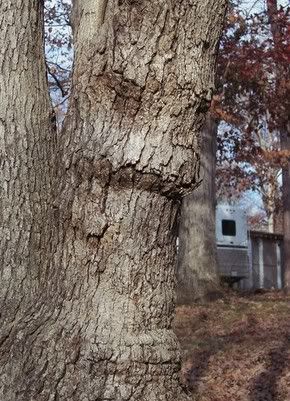 Meanwhile, tell me this tree doesn't look like it swallowed the Grinch. Obviously, I spent some time playing with the camera and figured out how to upload to the desktop. It took forever to figure out why the software wouldn't install but it appears as an added bonus, I now have a working version of quicktime again. It's also saving the pix where they're hard to find for uploading to the net, but we are nothing if not adaptable.
Anyway I frittered the evening away on it and it's back to work tomorrow. It seems I'm pretty much on Mon-Fri this week so the drug war news continues to build up in my inbox and I'm not going to post any tonight. I'll be sifting through it as I can but I'm sure the latest buzz is being posted by the fine blogs on the blogroll.