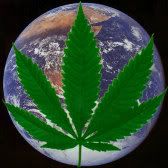 Dutch take lead on legalization of cannabis production
Thanks to
The Media Awareness Project
for bringing this bit of awesome news to our inbox.
Dutch planning to regulate marijuana crop
. It's a subscription based article that will eventually be available at the MAP link, but here's some initial excerpts.
AMSTERDAM - A broad coalition of political parties announced a plan yesterday to regulate marijuana farming on the model of tobacco, in what may be the most significant development in Dutch drug policy in years.

Opponents in the government said the move would be tantamount to legalization. But the proponents, representing a large majority in parliament, have threatened a showdown if the government tries to block the proposal.
Prime Minister Jan-Peter Balkenende opposes the plan saying, "This experiment would be at odds with Dutch law and there's a legal problem" internationally as well." Meaning it will piss off Bush and his merry band of US prohibitionist pushers. But legislator Frans Weekers, said the current policy is "hypocritical and leading to increasing problems."
"There comes a moment when you say: 'Now we have to take the next step,'" Mr. Weekers said in a telephone interview. "If this pilot program works and we can show to everyone that it's an improvement, then you have a good argument to take to foreign governments." He added there was no support at all for criminalizing marijuana among either politicians or Dutch society.
Now if we could only get our own politicians to make that much sense. Proponents of the proposal point out the contradictory approach of tacitly legalizing personal use while criminalizing production and its inherent effect on crime and public safety. The Dutch, always leaders on this front, are looking for new way.
Dutch mayors along the country's borders have lobbied hardest for the change, facing problems from drug tourists from Germany and Belgium who drive to the Netherlands to buy supplies. Supporters said regulation of production would, like regulating tobacco, make smuggling large quantities across the border more difficult. "It will be possible to trace where cannabis is grown and where it's sold," Mr. Weekers said.
As the author of the article notes, "It also could open the door to outright legalization and taxation of an industry with annual domestic sales estimated at the equivalent of more than $800 million Canadian."
Let's hope so. It's about time for someone to come up with a legalization model to prove it could work to the benefit of civil society.