The Santa Clause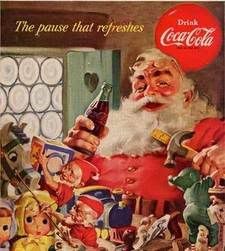 Say it ain't so.
News from Davison breaks the awful story
. Santa Claus lost his endorsement contract with CocaCola and
will not appear on holiday packaging this year
out of solidarity with WalMart's new
"Happy Holiday" diversity program
.
The toymaker's union, International United Enchanted Toy Producers (IUETP), are understandly upset. According to a spokeself,
After Wal-Mart, which many consider to be the standard bearer for "values", decided to drop all mention of Christmas in its stores, in favor of signs wishing "Happy Holidays", we thought something like this might happen. After all, what's more representative of America around the world than Coca-Cola? If Coke abandons Christmas, what's next? You're going to fire Santa? Why not just knock down the Christmas tree at Rockefeller Square?
Some rank and file elves speculated Santa may have sold them out. However, officials contacted at the Diversity Enforcement Agency (DEA), denied rumors that Santa refused to sign a renewal contract under pressure of threatened indictment and extradition from the North Pole for
criminal association with snowmen
.
As of press time, Last One Speaks was unable to independently confirm either allegation. On a brighter note we hear
Bad Elf
beer will still be employing Santa's services.
Maybe
.