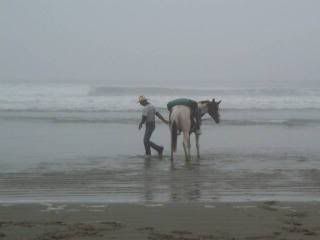 Journey's End
Howard and his trusty horse Misty completed their 3,300 mile Long Ride just a few weeks ago, but Misty is already rested up enough to have completed her book. It's due to hit Amazon in about three weeks, but thanks to Howard we have one excerpt.
"As good as Howard was, sometimes there was nothing he could do about our situation in the burning inferno of Utah. In that agonizing desert, a man's mouth became so dry, he couldn't spit. I felt the heat cook my hooves at ground level where it felt like walking at the end of woman's hair dryer. Above us, vultures soared in the skies searching for road kill. Yet, Howard pulled down the brim of his hat and pushed forward. I followed this cowboy, because he was a Long Rider and I was his horse."
He'll have advance copies available shortly. If you would like one, autographed by the man and his horse,
email Howard
.