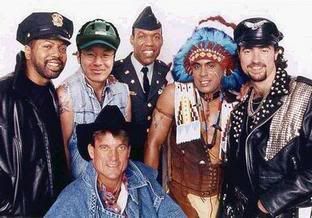 Long way from the YMCA
This is
kind of sad
.
Victor Edward Willis, the original policeman in the 1970s music group the Village People, was arrested by real police who allegedly found a gun and drugs in his convertible.

Willis, who co-wrote disco hits such as "Macho Man" and "In the Navy" before leaving the Village People in the late 1970s, was taken into custody Monday after an officer stopped his Chevrolet Corvette.

Police said Willis didn't have a valid license or identification and at first lied about his name and residence. Inside the car, the officer found a .45-caliber handgun as well as rock cocaine and drug paraphernalia, police said.

Traces of cocaine and other paraphernalia were also found his home at a mobile home park in Daly City, just south of San Francisco, police said. Willis also had an outstanding felony warrant for possession of narcotics.
Too bad. The guy has to be in his 60s by now and they'll probably seize his car too. I'd guess it might be the last thing he has left from his "glory days."
[image borrowed from Lew Rockwell]