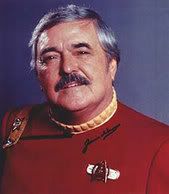 Scotty won't be beaming back down
This is sad.
Actor James Doohan, best known as Scotty, the feisty, Scottish-accented chief engineer on television's original "Star Trek" series, died on Wednesday at his home in Redmond, Washington, his manager said. He was 85.
He was one of my favorite Star Trek characters of all time. The original series - and I was watching when it originally aired - was the best. I liked Second Generation okay, although I never loved Picard like I did Kirk. I warmed up to DS9 after a while. I have to admit I lost interest when they got to Voyager. The characters just didn't work and they finally ran out of story lines.
Scotty was likely to say, "A can nae change the laws of physics. I've got to have thirty minutes." His character will defy those laws and live on forever in reruns but the man who brought him to life cannot and paid the earthly price.
Rest in peace James.