photo xmag.com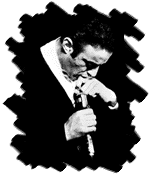 POSTHUMOUS PARDON
New York Governor George Pataki, perhaps to atone for failing to drop the Rockfeller laws this year, issued a pardon for Lenny Bruce some forty years after his obscenity conviction for stating his political views in the common vernacular. Thanks to
TalkLeft for passing on this bit of good news
. From the post:
Pataki, a third-term Republican, called his decision to issue the first posthumous pardon in New York state history "a declaration of New York's commitment to upholding the First Amendment."
Lenny was a man born before his time and he died too soon. He broke the ground that political satire artists tread today and it's good to see justice served in this case, even at this late date. Last word goes to this complicated comedian.
The liberals can understand everything but people who don't understand them
.
I'd be almost insulted by that remark except that it's true. I can't fathom their thinking.